XIONGQIAN Perforated Metal Fences
Perforated metal fence is used to secure any property. Constructed from sheet metal, this fence has small perforations or holes punched in it, allowing air, light, and sound to pass through. The perforations also provide a decorative touch and can be used to create a unique, eye-catching look.
At XIONGQIAN, you can obtain perforated metal fence panels that can offer a high level of privacy and security. These are suitable for both commercial and residential applications.
Based on your specifications, we can design the perfect fencing solutions that meet your needs. Message us today!
Galvanized Steel
Type of steel coated with a layer of zinc for increased corrosion resistance and appearance. A durable and long-lasting material for use in perforated metal fences.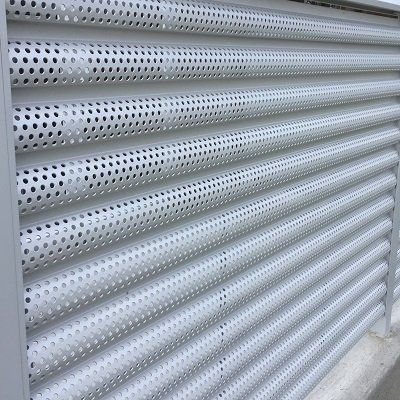 Aluminum Fence
Aluminum perforated fence offers a stylish and modern look to your outdoor space. It is corrosion-resistant and does not rust, making it a great choice for outdoor fencing.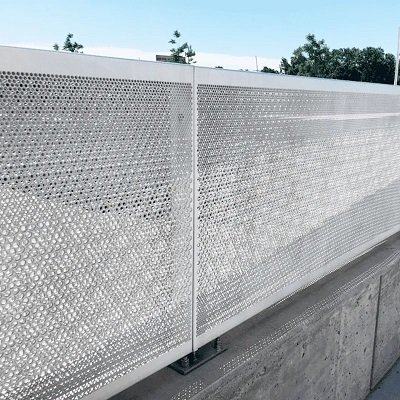 Stainless Steel Fencing
Fence constructed from durable stainless steel can withstand the elements and harsh weather conditions. It has an anti-corrosive finish to ensure it lasts for years to come.
Wrought Iron Fence
Wrought iron is a type of metal that is extremely sturdy and can last for many years. The intricate iron design adds a classical and timeless look to any garden or yard.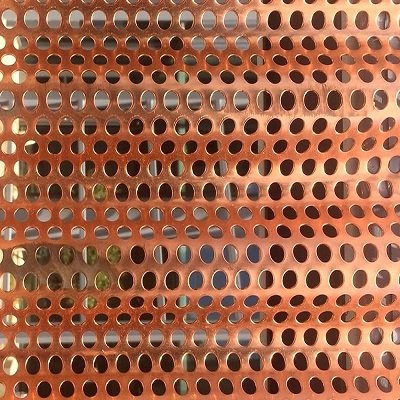 Copper Fencing
Copper is a versatile metal that is not only aesthetically pleasing but also resistant to rust and oxidation. The copper finish will not fade or discolor over time and adds a distinct look to the fence.
Brass Fencing
Brass-perforated metal fencing offers an attractive and secure barrier that will enhance any garden or outdoor space. These are known for their beautiful gold-like appearance.
Why Choose XIONGQIAN Perforated Metal Fence
XIONGQIAN can custom perforated metal fence systems from a wide range of designs, patterns, materials, and sizes to meet the needs of any project. These fences can be created with a variety of metals, such as steel, aluminum, stainless steel, as well as different hole shapes and sizes. The holes in the metal can be created to create a unique design according to your requirements.
Moreover, the fences can be powder-coated, anodized, or painted for a unique finish depending on your request. We also offer panels with text brand or logo. If you have specific applications, please feel free to message us. We will assist you from the initial design to completion.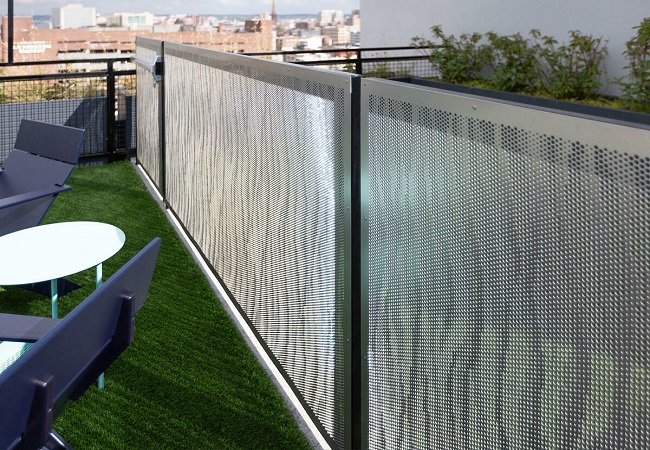 Perforated Metal Fence Production
Perforated metal fences are made by cutting sheets of metal with a punch press. The punch press uses a die with a pattern that is either punched into the metal or cut out of it. The metal is then bent into the desired shape and welded together. The final product is then powder-coated or galvanized to protect it from the elements.
Perforated Metal Fence Hole Patterns
Slotted
Square
Hexagonal
Round
Oblong
Diamond
Rectangular
Triangular
Louvered
Woven,
Custom options.
Extensive Surface Treatments Available
Perforated metal fences can be surface coated for enhanced corrosion resistance, durability, and appearance. Some are the following we are experts on:
Powder Coating: A process of applying a colored powder to the metal surface and then baking it in an oven to create a durable finish.
Anodizing: This is an electrochemical process that creates a protective oxide coating on the metal surface.
Painting: Adding a decorative or protective layer of paint to the metal surface.
Etching: A method of creating designs or patterns on the metal surface by chemical or mechanical means.
Hot Dipped Galvanizing: A method that involves a protective zinc coating applied to steel or iron. It is done by dipping metal in a bath of molten zinc.
Electropolishing: Using an electrical current to smooth the surface of the metal and remove any imperfections.
Perforated Metal Fence Panels Benefits  
Improved Privacy: Perforated metal fence improved privacy safety due to its perforation designs that allow for air to flow through while still providing a visual barrier from neighbors.
High-Strength: Our range of perforated metal fence panels is highly durable and can withstand the elements for many years. They are designed to last and resist corrosion, rust, and other types of damage.
Cost-Effective: Metal fences are cost-effective options compared to other fencing materials. They are versatile and can be used in a variety of applications.
Versatility: They can be used in a variety of ways and can be customized to fit the needs of any project. Can be painted, powder-coated, or even used as a decorative feature.
Low Maintenance: Require minimal maintenance and are easy to clean. Perforated metals are also resistant to discoloration and fading, making them a great choice for outdoor fencing needs.
Easy to Install: Easy to install and require minimal maintenance fences.
Perforated Metal Fence Custom Designs
XIONGQIAN can manufacture custom perforated metal fences based on customers' demands. Whether you choose traditional or modern design fences, you can rely on us.
Chain Link Fence
Privacy Fence
Vinyl Fence
Decorative Fence
Security Fence
Steel Mesh Fence, etc.
Wide Applications
Secure residential, commercial, and industrial properties.
Separate different sections of a yard or garden.
Provide a secure barrier between parking lots and other public areas.
The secure barrier between public areas and private property.
Airports, military bases, and other high-security areas.
Used for decorative purposes in gardens and other outdoor areas.
Install in construction sites to provide a secure barrier between workers and the public.
Provide a secure barrier around swimming pools, playgrounds, and other public areas.
XIONGQIAN Quality Certifications
American Fence Association (AFA)
American Society for Testing and Materials (ASTM)
International Organization for Standardization (ISO)
Underwriters Laboratories (UL)
Canadian Standards Association (CSA)
International Building Code (IBC)
American Welding Society (AWS)
American National Standards Institute (ANSI)
Perforated Metal Fencing Considerations
Durability: Choose a perforated metal fencing material that is strong and durable to withstand weather, wind, and other elements over time.
Security: Look for metal fencing that features adequate security and safety such as secure locks, anti-climb designs, or decorative patterns to reduce unauthorized access.
Maintenance: Choose a perforated metal fencing material that is easy to maintain and clean. Look for options that are rust-resistant and require minimal maintenance.
Aesthetics: Select a perforated metal fencing design that enhances the look of your home or business. Consider the color, shape, size, and pattern of the fencing to ensure it blends in with the surrounding environment.
Cost: Consider the long-term cost of installation, maintenance, and repairs.
FAQ
How long the perforated metal fence will last?
The lifespan of a perforated metal fence will depend on the type of metal used, the environmental conditions it is exposed to, and the amount of maintenance it receives. Generally, a well-maintained perforated metal fence can last 10-30 years.
What is the perforated metal fence price range?
The cost of a perforated metal fence can vary depending on the size, materials, and style. Generally, you can expect to pay anywhere from $8 to $50+ per linear foot for materials and installation.
What machines are used in perforated metal fences production?
The machines typically used in the production of perforated metal fences include press brakes, shears, punches, and CNC machines. These machines are used to cut, shape, and form the metal into the desired fence design. Additionally, grinders and welders may also be used to finish the fence.
How does XIONGQIAN ensure the perforated metal fences' quality?
XIONGQIAN typically ensures the quality of perforated metal fences by undertaking a number of steps.
Rigorous testing and inspection of the materials used to construct the fences. The testing process includes checking for strength, durability, and corrosion resistance.
Additionally, we often employ a high level of precision in our production of perforated metal fences to ensure that the pieces fit together properly. Once the fence is constructed, our team will also perform a visual inspection to ensure that all components are in place and that the overall fence looks aesthetically pleasing.
Finally, we apply protective treatments to the fence to make it more resistant to the elements.