XIONGQIAN Perforated Metal Container
The perforated metal containers are manufactured to store or handle various items and even heavy industrial usages. Since they are made from high-quality metals, these containers come with durable and high-strength properties. Their perforated structures allow air circulation and make the stored items nearly visible. 
XIONGQIAN professionally manufactures custom perforated containers made from different metals. That helps your end customers have a wide option. You can demand your required specifications, and we will do the rest of the process. Different patterns, sizes, and thicknesses are available for customization.
Contact us now right here!
Metal Material Selection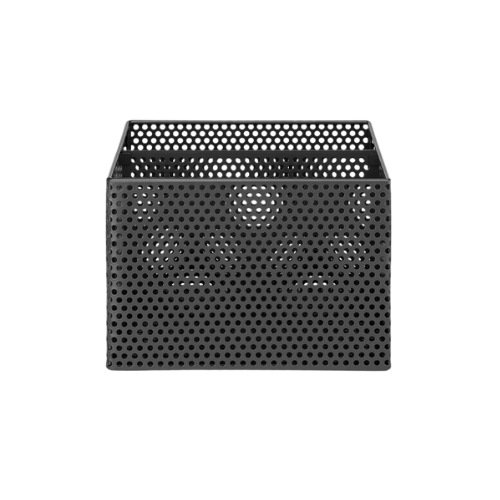 Carbon Steel Container
Available in 14-20 guages

Custom hole shapes

Milled finishes
Brass Perforated Container
Excellent appearance

Available in custom sizes

Versatile to form
Square Perforated Container

Rectangle Perforated Container

Oval Perforated Metal Container

Round Perforated Container
Why Choose XIONGQIAN
XIONGQIAN is an experienced manufacturer of metal-made perforated containers. We are doing each level of production with the assistance of our skilled engineers and designers. Moreover, we support OEM services with low MOQ and fast delivery guarantees. 
Our perforated metal containers come with the following advantageous characteristics.
Bend and aging resistance

High-performance design

High corrosion-resistant capacity

Three times treated surface finishes

Certified and adheres to environmental standards
Perforated Metal Container Features
Environment Friendly
The metallic perforated containers are completely recyclable. It means, there's no material waste during production. 
Lightweight
Compared to containers with solid styles, the perforated ones have lighter weight. That is because of their hollow structure and holes. 
Since they are not heavy, you can purchase or request bulky containers at affordable cost and shipment fee.
Longevity
Since the perforated containers are made from top-quality metal materials, they usually last for more than five decades. The mentioned containers have also lesser repair and maintenance needs.
Aesthetic Look
The perforated containers are designed with various patterns, types, and shapes, depending on applications. 
Customization Availability
All specifications of perforated metal-made containers are open for customization. There are comprehensive options available for hole dimensions, hole shapes, surface finishes, thickness, sizes, and more.
Applicable Spaces
Custom sizes of perforated metallic containers are applicable in the following areas.
Wall

Bathrooms

Wardrobe

Living room

Behind doors

Kitchen

Factories

Warehouses

Disinfection rooms

and more
Perforated Metallic Container Usages
With exact hole dimensions and body sizes, the perforated metal containers have extensive usage. That includes the following.
Electric wire storage

Tableware storage

Tool storage

Food and beverages storage

Laboratory sterilizers

Warehouse supply holders

and many other accessories storage
FAQ
How much Weight can a Metal Container Hold?
The metal container can hold up to 200+ kg based on its larger size. Yet the container's size affects its loading capacity, which increases if substantially huge.
Do the Metal Containers Come with Finishes?
They are available with custom finishes, mainly with three particular types. 
Hot dip galvanized. It has corrosion-resistant—ideal for indoor application. 

Powder coating. This coating type is suitable for both indoor and outdoor usage.  

Zinc plated. Great for internal use as it has protective finishes with zinc.