XIONGQIAN Hexagonal Perforated Metal
The perforated metals with hexagonal or honeycomb holes are composed of hexagon-die-punched result holes. They offer more than 80% of open spaces. These unique metal designs provide an attractive appearance and also maximize area security. Moreover, using these perforated metals give minimally compact air and light to the area.
XIONGQIAN professionally manufactures honeycomb perforated metal sheets in different variations. We made them according to your project requirements or business supplies. Our company owns state-of-the-art punching machines, providing your desired hexagonal hole dimensions. Cut-to-size options and shapes are also offered using our advanced facility equipment.
Contact us now!
Metal Material Option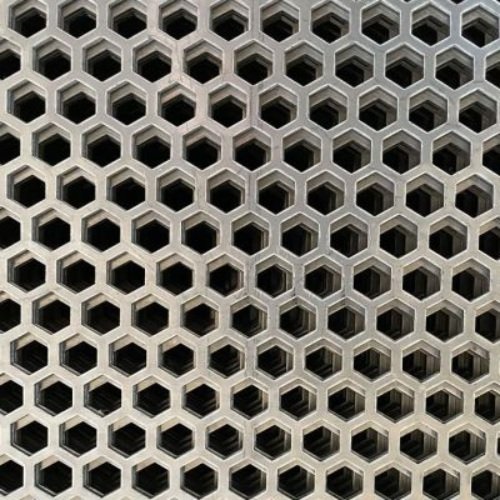 Stainless Steel
The stainless steel metals with hexagonal holes come with various qualities, including strength and an attractive look. They have chromium content that makes them resist rust.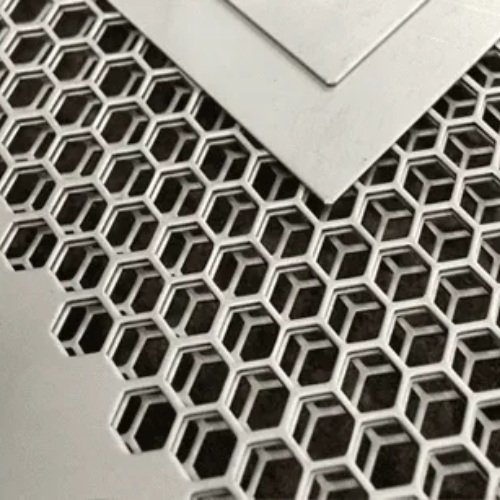 Aluminum
The aluminum-made honeycomb perforated sheets have lightweight, robust, and adaptable properties. These sheets are ideal for usages that need sound and light diffusion. 
Nickel
Nickel hexagonal perforated sheets have excellent strength. They are the preferred materials used for outdoor construction projects. These sheets can endure extreme temperatures.
Copper
Copper-made hexagonal perforated sheets provide great corrosion resistance. They are commonly used for indoor and outdoor projects, providing unique looks according to desires.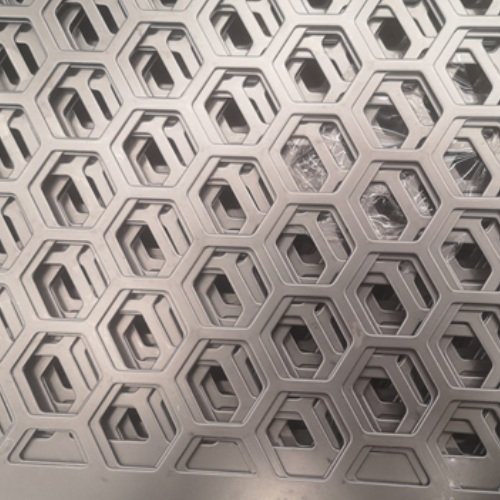 Mild Steel
The mild steel ones are durable. They are perfect for industrial and commercial utilization that doesn't need a creative appearance. These sheets are economical with various advantages.
Brass
The brass material used to manufacture honeycomb perforated sheets consists of copper and zinc. That makes them possess maximized strength, anti-rust, and hardness.
Why Choose Our Services
XIONGQIAN has unparalleled services offered to customers worldwide. Choosing us as your business or project partner will indeed help boost your sales and productivity.
Consider our following advantageous services:
Professional staff with deep know-how about metals

Provides high-quality perforated sheets at a low cost

Rigorous quality inspection during manufacturing processes and prior to delivery

Consultation support for free

Fast delivery

Significant after-sale service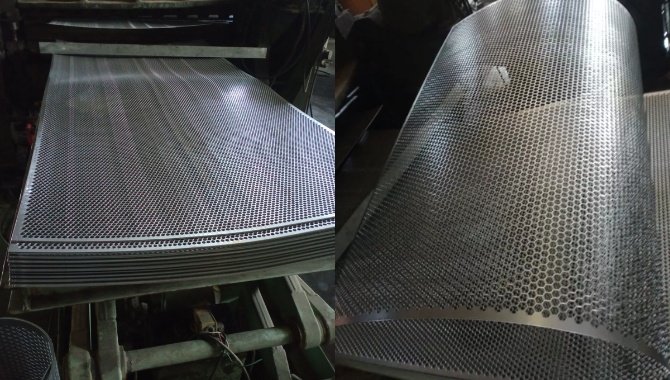 Hexagonal Perforated Metal Advantages
Aside from great corrosion resistance and simple fabrication features, the hexagonal type of perforated metal has the following advantages.
Filters Sound
Installing suitable hexagonal perforated sheets to areas will minimize unnecessary noise through dispersing. They filter out uncomfortable and annoying sounds in working spaces. 
Lasting Look
Various metal alloys are used to form hexagonal perforated sheets. That makes them adaptable to process and design with lasting appearance or impression. Since they are metal-made, the unique sheets have high impact resistance and last for a long period.
Privacy
Utilizing hexagonal perforated sheets in workplaces provides an attractive impression as well as privacy. The typical noises are absorbed, forming a calm and pleasant environment.
Ventilation
Industrial buildings use various perforated metals to maximize shades and airflows. This security technique saves about 30% to 50% on heating energy expenses and ventilation. 
Environment Friendly
The metal materials used to form honeycomb-perforated metals are recyclable, minimizing new metal needs for production.
Featured Applications
The hexagonal perforated metal is a versatile material utilized by numerous industries for applications such as 
In-fill panels

Trash receptacles

Ventilators grid

Drain covers

Glass reinforcement 

Filters

Sun protector slats

Site amenities

Grain dryers 

Gas purifier 

Stair treads
Available Surface Finishes Options
Powder coating

Oxidation treatment

Galvanized

2B

Bright annealed

More
Conducted QC Inspection
The perforated metal with hexagonal-shaped holes undergoes several inspections to check its quality. 
Consider the following operation.
Raw material inspection

Perforated quality check

Aperture inspection

Thickness assessment

Width review

Length review
FAQ
What are the Available Hexagonal Hole Sizes for Perforated Metal? 
Here are the three sizes categories of hexagonal-type perforated metal sheets, available for customization.
Dimension 
Pitch

 

Open Area

10mm

12.5mm

64%

10mm 

25mm

32%

14mm

18mm

60%

20mm

25mm

64%

20mm

32mm

39%

22mm

28mm

51%

28mm

33mm

72% 

28mm

38mm

54%
Selecting the Right Hexagonal Perforated Sheets: What are the Factors to Consider?
To find the most suitable hexagonal-type perforated metal sheets, you'll need to consider the following factors.
Metal Thickness

Hexagonal Hole Spaces

Margins

Flatness

Sheet Sizes
What Process Involves Forming Holes in Perforated Metal?
The forming procedures for perforated metal use conventional methods. In most cases, the process now utilizes modern machinery. But, even with a programmed systematic technology, the process remains unchanged. 
And the said process includes
Die and punch

Plasma

Rotary pinned

Laser

Water jet

Nibbling
How Long could a Perforated Metal Last?
They are said to last for 50 years with almost no maintenance required. Understandably enough, as perforated metal is composed of numerous materials, it guarantees long-term use. 
And also, they are sufficiently durable to withstand damage inflicted by contact pressure. It indicates that perforated metals are long-lasting.