XIONGQIAN Perforated Tread Plate
A perforated tread plate also known as an anti-slip plate is an industrial flooring panel made of metal. It is well-known for its durability and fraction due to its perforated pattern design. Any tread flooring such as vehicle running board and dock surface can guarantee safe with our perforated tread plate.
XIONGQIAN is a professional perforated tread plate manufacturer in China. We offer it in various customization options, from materials, sizes, thickness, and finishes.
Message us now!
Shop by Materials
Stainless Steel
Stainless steel perforated tread plate is commonly used for high-grade decoration and architectural purposes.
Aluminum
XIONGQIAN provides a perforated tread plate made of aluminum. This plate has excellent corrosion-resistant, non-sparking, and non-magnetic.
Carbon Steel
Perforated tread plates made of carbon steel are commonly used as walking decks, scaffolding systems, stair treads, and safety flooring.
Mill

Our mill-finish perforated tread plate provides a matte-finish pattern. It is mainly used for structural purposes that do not require bending.

Painted

Xiongqian offers a painted perforated tread plates suitable for decoration. Available colors are red, green, yellow, and many more.

Galvanized

Xiongqian galvanized tread plate has excellent corrosion-resistant, weather-resistant, and rust-free protection which extends their life span.
Why Choose XIONGQIAN
We have the excellent production capacity and we maintain all quality parameters.
Our perforated tread plate is ISO-9001-certified and is manufactured with a quality guarantee.
Our professional engineers assist you in the entire production, from material sourcing, and design to production and shipping.
We can customize your perforated tread plate based on your specifications.
Implementing strict quality control to ensure we deliver the highest quality tread plate.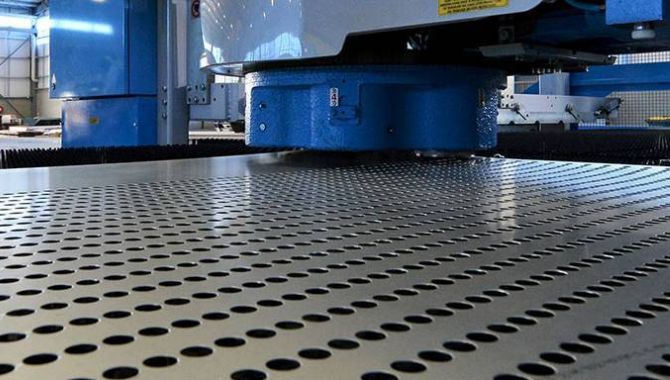 Where Perforated Tread Plate Used
The perforated tread plate is almost used in everyday life due to its slip-resistant ability and excellent surface. It is applicable for different applications, such as:
Household
Auto Parts
Machines
Platform
Mezzanines
Rooftop Walkways
Bridge
Crossover Bridge
Advantages
Anti-Slip: Perforated tread plates are designed with many surfaces and holes. It makes them slip-resistant in any direction and makes the step hold the plate firmly.
Corrosion- and Rust-Resistant: The plate is produced from high-quality metals that make them more corrosion-resistant. It is also polished with different treatments to resist rust.
Drain and Clean: The perforated tread plate is designed with holes that make the waste wash away. Raining can also rush easily through the holes.
Durable and Low Maintenance: It can withstand crashes and high capacity, suitable for all types of weather conditions.
XIONGQIAN Perforated Tread Plate for Your Unique Project
Being a leading manufacturer in China, Xiongqian is glad to help you choose what's the best tread plate for your projects:
If your project is for cleaning, protecting, or decorating, we recommend using a perforated tread plate made of aluminum and stainless steel. These materials are lightweight.
For projects where slip-resistant is crucial such as ramps, stairways, and flooring, we can provide you thicker tread plates with additional bars. The thicker the plates, the more loading capacity is needed. Also, the additional bars can also enhance their slip-resistant feature.
Xiongqian can adjust the holes of our perforated tread plate for applications where weather conditions and waste are often heavy.
We can also adjust the slip-resistant feature of our perforated tread plate for oily environment uses.
How We Produce Them
Our perforated tread plate is produced from rolling slabs. In order to have a specific thickness, these slabs are subjected to hot rolling. Then, we make holes in any size, pattern, and shape through cold punching.
Science of Bending Perforated Tread Plate
Xiongqian is equipped with air-bending tools with a V die and punch. This tool helps the workpiece to remain where it needs. During tread plate bending, we consider every type of workpiece material, size, and thickness. This could ensure accurate bends of the perforated tread plate.