XIONGQIAN Perforated Aluminum Sheet
Perforated sheets made from aluminum is lighter compared to steel perforated sheet. However, it offers some level of resistance to rust and abrasion. These qualities make them easy to weld and form material. Besides, perforated sheets in aluminum have a lovely silvery appearance.
XIONGQIAN carry a wide range of perforated aluminum sheet. It is available in a wide assortment of sheet thicknesses, hole sizes, staggers, and patterns. Plus, we also offer standard and custom-cut sizes options for your particular needs. XIONGQIAN has more to offer in terms of perforated aluminum panel products and services.
Please give us a heads-up regarding your request.
Hexagonal Aluminum Perforated Sheet
Ideal for sign panels, partitions, guards, and other structures. Great for filtration and soundproofing. It provides great ventilation and adaptability. Available in various sizes.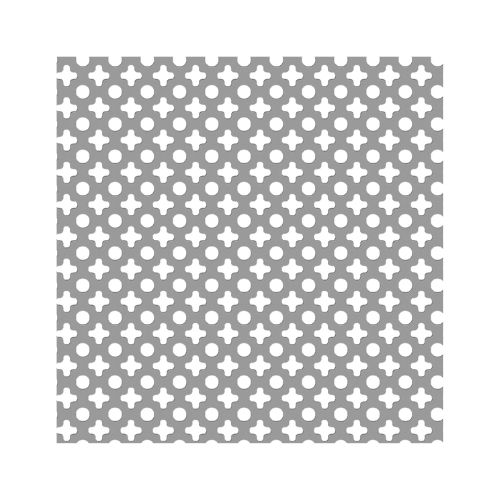 Decorative Pattern Aluminum Perforated Panel
It features flexible installation options and simple maintenance. Good noise reduction and stress absorption ability. Best for both exterior and interior decorations.
Aluminum Perforated Sheet Round
Aluminum sheets with round hole perforated are perfect for cladding, ceiling panels, and sunshades. Hole pattern options: straight, 60°-, and 45° staggered type.
Square Aluminum Perforated Plate
Square perforated metal has holes punched out of it using a square die. Economical, ensures security and wide open space. Enabled flow of liquid, light, and sound.
Slotted Hole Perforated Aluminum Sheet
Main features: strong toughness, simple to install, light, and expensive. Great use: filtering and sieving liquids and solids, including grain. It has a long, narrow hole form.
Perforated Aluminum Panel Rectangular
Punched with numerous hole sizes; 0.8-18mm. It permit the passage of air, liquid, light, and sound. It is frequently used in exterior and interior design. Custom finishing options.
Why Choose XIONGQIAN for Your Perforated Aluminum Plate Project
Modern Technology – Aluminum sheets can be perforated utilizing laser perforations, die and punch presses.
Durable Material – We have a lot of options; and will choose the best aluminum alloy for manufacturing perforation sheets. It has a great strength-to-weight ratio.
Extensive Compatibility – Our perforated aluminum sheets are compatible with most structural components in the construction systems.
Portable and Lightweight – Aluminum plate perforated perform well due to its fair light. In relation to it, it become easy to use in most applications.
Full Quality Guarantee – We provide a warranty on our aluminum perforated plate. If you have any questions, you can contact us. Your issue will be resolved in 24 hours.
Select the Right Aluminum Grade for the Perforated Plate
3003 – This is a general-purpose alloy that is utilized the most. It provides a high level of resistance to elements such as chemicals.
5050 – Quite comparable to 3003 in terms of physical characteristics. Advised for anodized application for optimum compatibility.
5052 – Flexible alloy. Ideal use for applications that requires more strength and formability.
5066 – Recommend welded components requiring excellent joint strength and efficient welding.
Other aluminum alloy grades available are 1100, 1050, 1060, 1070, 5005,6061-T6, 6063, etc.
Perforated Aluminum Panel Thicknesses
By Inches
4" x 2"
4" x 4"
6" x 4"
12" x 48"
24" x 48"
48" x 48"
48" x 96"
Thicknesses ranging from 0.020″ to 0.125″.
For special requests, we also provide the cut-to-size option.
Advantages of Perforated Aluminum Sheet
XIONGQIAN aluminum sheet panels with perforation possess special features.
Enhance filtration ability
Capable of controlling noise
Heat dissipation
Corrosion resistant
Cost-effective
Extended life span
Toughness
Lighter weight
Highly versatile
Environmental-friendly
Require less maintenance
Available Perforated Aluminum Finish for Your Needs
Anodized
Powder Coated
High Polished
Shine and Dull Mill
Galvanized
Burnishing
Grinding
Fluorocarbon Coating
Color Painting
Where Perforated Aluminum Panel Often Used
It is commonly utilized in equipment that requires protection from UV, breeze, fluid, and noise.
That involves:
Food cover
Soundbox
Signboards
Dividers and guards
Device screening
Electric enclosures
Noise barrier structure
Mechanical equipment cover
Water seepage equipment
Liquid and gas filtration system
Industries We Serve
As a perforated aluminum sheet manufacturer, XIONGQIAN continues to work with the needs of businesses across a variety of industries.
Here are the top industries we serve for many years.
Food
Beverage
Architectural
Energy
Auto
Chemical
Construction
Custom Perforated Aluminum Sheet for Your Project
XIONGQIAN is a leading perforated aluminum sheet supplier in China.
Our expertise enables us to provide customized support for your specialized application.
If you are new in the business, then we are here ready to help.
Here are the customized solutions we can offer:
Choose the aluminum alloy # perfect for your intended use.
Hole design (or a special hole pattern can be made)
Specify panel length, widths, diameter, thicknesses, etc.
Punching tools and surface treatment, and a lot more.
Production of Aluminum Sheet With Perforations
Choose the design of the aluminum panel to cut and bent into the desired shape.
Aluminum alloy thicknesses are measured by gauges
Rotary pinned perforation roller is used to perforate the panel
It revolves while the sheet metal is being run across
Continue punching holes in the sheet as it passes.
For instance, heat is applied to the roller's needle.
It can create holes of a wide range of sizes. Thus, creating a strengthened ring around the perforation.