XIONGQIAN Slotted Hole Perforated Metal
Metals with slotted holes are typically perforated with rectangular and oblong holes. The slotted die can be used to produce pattern holes with different widths, lengths, and slot ends. This perforated metal sheet is made with unprecedented versatility and formability. It enables to bring style and aesthetic appearance for both high-end and industrial structures. However, it also possesses superb filtration ability for liquids and solids, making it to be the best perforated metal sheet solutions. 
With decades of combined experience, XIONGQIAN aims to provide customer-focused services and valuable metals. We are endeavoring to give you immediate assistance in choosing the perfect slotted perforated metal that best suited to your projects. Contact us today!
Slotted Hole Perforated Metal By Materials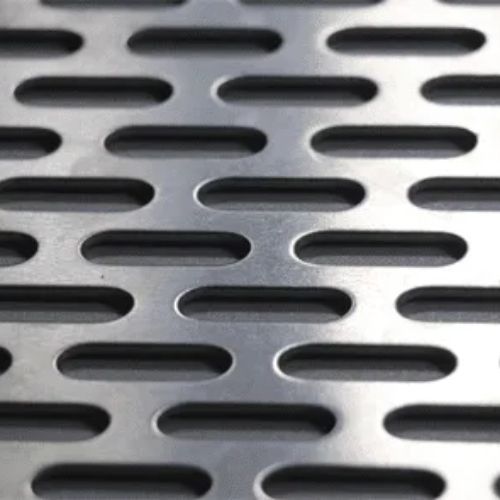 Steel
A unique feature of steel slotted hole perforated permits a substantial volume of material to pass through without negatively impacting the overall strength and performance of the steel sheet.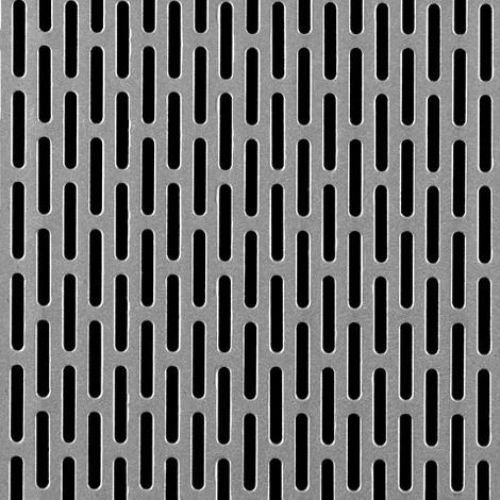 Carbon Steel
A fine, smooth surface that is excellent for painting is provided by a carbon steel slotted hole perforated. These perforated sheets are utilized for a variety of purposes.
Copper
Although the Slotted Hole Perforated method improves the aesthetic of copper, it also offers protection and noise reduction benefits.
Aluminum
Aluminum slotted hole perforated is a very corrosive and lightweight metal. Another key benefit is the excellent strength-to-weight ratio of these sheets.
Stainless Steel
Forming stainless steel slotted hole perforated is unique. It has an attractive design and is simple to install.  It also features a strong design and a tough finish.
Brass
Corrosion resistance makes brass slots with perforated holes beneficial in corrosive environments. The strength and effectiveness of its filter can withstand strong material.
Round Ended Slotted End Staggered

Round Ended Slotted Rectangular Pitch

Square Ended Slotted Side Staggered

Round Ended Slotted Side Staggered at 45 Degrees
Why Choose XIONGQIAN for Slotted Hole Perforated Metal
Configurable

Wide open space

Eye-catching

Various gauges, materials, and patterns

Ensures security

Strong in tensile

Excellent corrosion and abrasion resistance

A beautiful appearance

Portable and simple to install

Long-lasting and strong construction
Slotted Hole Perforated Metal Applications
There are several uses for slotted hole perforated metal, including:
Metal screens with perforations

Diffusers made of perforated metal

Metal guards with perforations

Filters with metal pinning

Metal vents

Metal strainers

Ornamental grilles made of perforated metal

Panels with perforated metal infill.

Wall and ceiling panels

Cladding and sun protection

Ventilation of gasses, light, and sound

Serve as sieves for a machine that cleans and dries grains and seeds.
Specification of Slotted Holes
– 0.125- to 0.2-inch slot width
– 0.1- 0.75 inches long slots
– 0.125-to-0.25-inch slot side-bar
– 0.125-to-0.25-inch slot end bar
– 36 to 48 inch sheet width
– 24″ to 120″ in sheet length
– 14- to 22-gauge thickness
 – Open Zone: 41% to 74%
Fabrication of Perforated Metal
XIONGQIAN offers custom services for perforated metal production, such as:
Punching

Welding

Rolling

Shaping

Bending

Notching

Bolt-holes

Degreasing, and other production.
XIONGQIAN Services Advantages
XIONGQIAN has extensive capabilities in customizing products based on customers' requests. We provide high-quality products at competitive prices, quick shipping, and favorable payment conditions.
Also, we establish strict product inspections and examinations to determine if perforated metals qualify to the quality standard.
– Expertly focuses on products R&D, production, logistics, and sales.
– We promise to respond within 24 hours and to provide solutions within 48 hours.
– With trading firm services, we can offer factory prices.
– Prior to official cooperation, we accept small order quantities.
– Our factory and teams are qualified.
– Owns high-end technology and advanced in-house production centers.
– Increased production performances.