XIONGQIAN Square Hole Perforated Sheet
The square hole perforated sheet is a type of perforated metal sheet that consists of even square holes. It is a sturdy alternative to traditional round hole perforated sheets, which are made lightweight, versatile, and long-lasting. Additionally, the sheets have solid structures, sleek textures, and an attractive appearance, making them a perfect material for multiple industrial, separation, decorative, and architectural needs.
XIONGQIAN is specialized in square-hole perforated sheet manufacturing. We offered countless customization services that entirely support your project requirements. To learn further about our products, contact us today through our email or hotlines.
Square Hole Perforated Sheet By Materials
Metals Square Hole Perforated
Square hole perforations have a linear design that provides a modern aesthetic and a high percentage of free space. Metals with square holes can be arranged symmetrically or asymmetrically.
Aluminum Square Hole Perforated Sheet
Aluminum square Hole perforated sheet is a lightweight and highly corrosive metal. The high strength-to-weight ratio of these sheets is another important advantage. Additionally, it has a sturdy construction and a durable finish.
Carbon Steel Square Hole Perforated
Perforated sheets with square holes made of carbon steel provide a fine, smooth surface that is great for painting. These perforated sheets are used for many different things because they are simple to drill, form, and weld.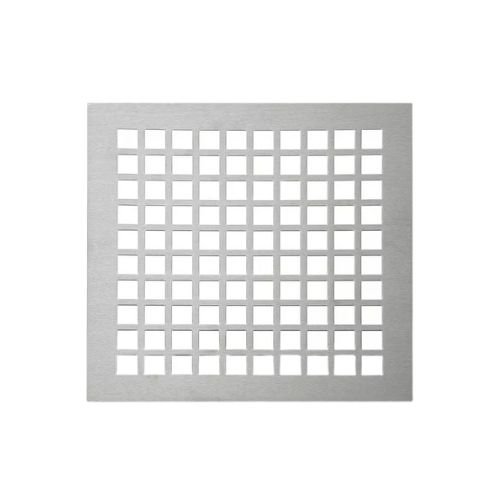 Square Hole Stainless Steel Perforated
Square hole stainless steel perforated sheet can be readily formed. It is straightforward to install and provides an appealing appearance. Also, the most varied hole size patterns and configurations are offered.
Galvanized Square Hole Perforated Sheet
Galvanized square hole perforated sheet is corrosion resistant, which makes it useful in corrosive areas. The sheets' strength and performance can handle heavy material filtration without suffering.
Square Hole Perforated Copper Sheet
Architects and planners are inspired to create new works of art from square-hole-perforated copper sheets. The addition of various decorative pattern designs has made it popular among contemporary architectural designers.

Why Choose XIONGQIAN for Your Square Hole Perforated Sheet
XIONGQIAN's manufacturing professionals adopt state-of-the-art methods in producing pattern-perforated metal sheets (square holes). We are one step ahead to provide comprehensive solutions.

We are equipped with ultra-modern technology, equipment, and production facilities. It allows us to generate tons of products in countless configurations and specifications. 

We never compromised the structural and performance quality of the product. All square-hole perforated sheets undergo multiple tests and inspections to ensure their superb quality. 

A range of sheet products is available in numerous sheet material grades, dimensions, finishes, hole sizes, and gauges to choose from

.
Designed with Comprehensive Features and Advantages
XIONGQIAN manufactures square hole perforated sheets with different features:
Cost-effective alternatives

A high percentage of open area

Low environmental impact

High visibility

Easy installation

Excellent ventilation sheet allowing the passage of air, liquid, sound, and light

Provides multifunctional safety

Superior strength-to-weight ratio. It allows heavier materials without sacrificing performance and strength.

Required low maintenance

Resistant to rust and corrosion
Numerous Hole Patterns are Available
Depending on exact requirements, XIONGQIAN produces square hole perforated sheets that are available in different square hole patterns, such as:
Straight type

Level type

Staggered type

Diagonal arranged square hole

Square perforated pattern

Decorative square hole pattern
Wide Selection of Surface Treatment
In order to extend the life of perforated sheets and to protect them against contamination and chemicals, XIONGQIAN uses the highest quality surface treatment, including:
Polishing

Powder Coated

Fluorocarbon Spraying
XIONGQIAN Square Hole Perforated Sheet Technical Specifications
| | | | |
| --- | --- | --- | --- |
| Gauge | Holes | Staggered Center | Open Area |
| 20 | 1/8 – 3/16 inch Dia | 3/16 – 1/4 inch | 40.3% – 51.0% |
| 18 | 1/8 – 1/4 inch Dia | 3/16 – 3/8 inch | 40.3% – 62.0% |
| 16 | 1/8 – 1/2 inch Dia | 3/16 – 11/16 inch | 40.3% – 47.9% |
| 14 | 1/8 – 1/4 inch Dia | 3/16 – 3/8 inch  | 40.3% – 51.0% |
| 12 | 3/16 inch Dia | 5/11 inch | 36.2% |
| 11 | 1/8 – 3/8 inch Dia | 3/16 – 1/2 inch | 40.3% – 51.0% |
List of Specific Uses for Square Hole Perforated Sheets
A perforated sheet with a square hole is ideally used as: 
Speaker grills

Decorative grilles

Machine guards

Handrail guards

Air condition guards

Computer server chassis

Electronic enclosures

Filter

Screens

Diffusers

Vents

Backlit panel

Infill panel

For fencing

For balustrades

For balconies