Xiongqian Perforated Metal Façade
Building façade made of perforated metal is popular for architectural projects. Including premier green buildings and residential schemes.
Xiongqian is a professional perforated metal façade manufacturer in China. We have a tooling library and modern equipment to provide you with different metal patterns. Numerous customization options are available in a variety of sizes and gauges.
Depending on your needs, we can customize your perforated metal façade with margins. This could ensure easy attachment to buildings.
Message us now!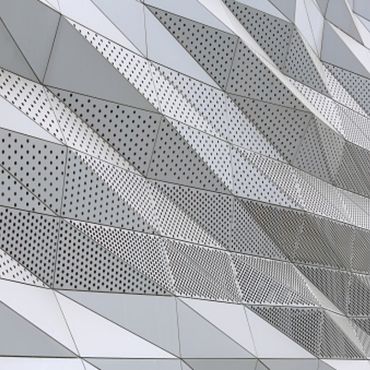 Perforated Aluminum Façade
The aluminum perforated façade is excellent for heat transferring, ventilation, soundproofing, and light transmission.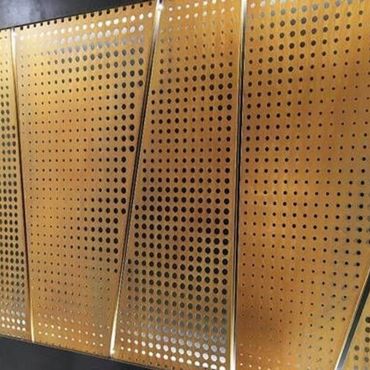 Perforated Brass Façade
Xiongqian perforated brass façade serves as a sunshade screen. It is designed to allow light to pass through.
Perforated Copper Façade
The perforated façade made of copper provides a warm and aesthetic color. It is available in different hole patterns.
Customize Your Perforated Metal Façade at Xiongqian
Xiongqian can produce custom perforated metal to fulfill your façade project requirements. We provide a wide range of custom solutions, such as:
Numerous metal materials, finishes, and colors
Limitless option for shapes, hole patterns, and sizes
Perforated imaging
Custom painting
Water jetting and laser for precise shapes and designs
Wide Range of Applications
Building facades
Ceilings
Column Covers
Fixtures
Furniture
Flooring
Feature Walls
Murals
Screen Walls
Walkways
Modular Rain Screen
Color Options
Slate
Natural
Graphite
Brown
Red
Green
Gold
Blue
Black
Function of Perforated Metal Façade
Xiongqian perforated metal façade carry out the following functions:
Conceal something unattractive
Limits the shine from the sun
Lessen noise or wind
Allows the light to enter in the building
Enhance aesthetics
Provide privacy
Considerable Benefits
Green Credentials
Perforated metal is a recyclable material, especially when sustainability is needed in the project. Using perforated metal for building façade can save energy cost. The perforated metal façade provides accurate airflow and light control.
Airflow Advantage
Building façade made from perforated metal can absorb, scatter, or reflect inconvenience noise outdoor and indoor. Most architects use metal perforated façade to conceal and ventilate building service machinery.
Design Creativity
Using perforated metal is the only way to customized your façade without compromising its performance. At Xiongqian, we have unlimited CAD-drawn and pattern customization option. It will surely fit your budget and project needs.
Perfect Solution for Privacy
Xiongqian perforated metal façade provides perfect privacy solution without compromising ventilation, light glow, and views. You can opt for closely spaced outline, nature-inspired, or geometric pattern for internal light play.
Pattern Option
Images, Illustrations, and Words: You can choose a them for your perforated metal façade.
Square, Rectangle, Classic Round Pattern: Our popular pattern for perforated metal façade.
Advanced Shapes, and Contemporary Geometrics: It is produced using our modern punching machinery equipment.
Mix-and-Match Pattern: Any sizes and hole styles on one panel for special architectural feature.
Xiongqian can customize all the pattern to exceed project requirements.
Panel Finishes
Finishing improves the facades surface to develop varied brightness, textures, colors, and looks. It can also enhance corrosion and wear resistance as well as durability.
Colored Finish
It is available in numerous colors and shades that is applied by powder coating.
Anodizing
Often used for aluminum materials. It is usually combined with a color and anodizing. Creating a long-lasting, tough, and weather-resistant coating.
Metallic and Weather Effect
The perforated metal facades with this type of effect provides a visual feature or modern makeover.
Curves and Folds
It can create a 3D effect as well as a folding, functional metal faced for light and privacy.