XIONGQIAN Perforated Steel Sheet
Perforated sheet made from steel offers high-end settings when it comes to style and strength. We operate on different steels for manufacturing the perforated plate. Steel has a sturdy structure and great durability, especially when protected with oil in layers. Carbon steel, alloy steel, and mild steel are some of the materials we used.
XIONGQIAN is one of the leading perforated steel sheet suppliers in China. Our manufacturing system acquires advanced technology. Quality and performance are 100% tested and guaranteed. You will find affordable yet reliable perforated sheet steel at XIONGQIAN.
Message us now!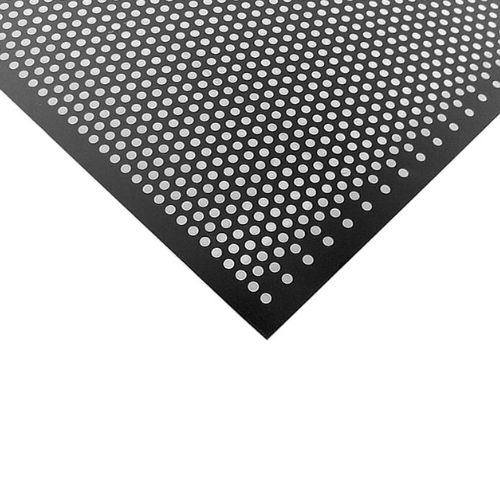 Perforated Carbon Steel Sheet
XIONGQIAN manufactures perforated plates made from carbon steel. Carbon steel has enhanced strength and corrosion resistance. It is ideal for practical applications.
The perforated sheet made from galvanized steel is exceptionally strong. It is coated with zinc to avoid water corrosion, humidity, and moisture.
Our aluminum steel perforated sheet is easy to install and lightweight. It has a silvery finish that produces an attractive and decorative appearance.
XIONGQIAN perforated titanium steel sheets are available in two grades, TA2 and TA1. It is 40% lighter than other steel materials. This type of steel is best used for structural use.
Perforated Mild Steel Sheet
Using mild steel, we are creating premium-quality perforated sheets. It is one of the top metals used for applications that display ferric oxide and other chemicals.
Perforated Alloy Steel Sheet
We are manufacturing perforated alloy steel sheets perfect for outdoor and indoor use. Alloy steel is highly flexible and ideal for areas exposed to wet environments.
Why Choose XIONGQIAN Perforated Steel Sheet
When it comes to product reliability and performance, our perforated steel sheet is unmatched. It provides great filtration in light, liquid, and sound applications. XIONGQIAN produces standard and customized openings for each steel perforated sheet.
At XIONGQIAN, you will find a wide range of options for steel perforated plates. Our product comes in small to large sizes, from thin to thickset options. You can choose whether you need a small or large opening for your perforated steel sheet. We are also offering no minimum orders and quick delivery.
Benefits of Using Steel for Perforated Plate
Here is the list of the following properties of our product:
Very versatile
Economical and functional
Great weight-to-strength ratio
High ventilation
Pressure control
Secured and safe to application
Easy to fabricate and cut
Customize easily
Lightweight and long-lasting
High noise reduction and precision
Patterns and Hole designs Option
Our company offers different hole customization for steel perforated plates. You can choose from the following options:
Round perforated type
Square perforated type
Slotted perforated type
Hexagonal perforated type
Designer perforated type
Rectangular perforated type
Ornamental perforated type
Octagon perforated type
Marietta perforated type
Moire perforated type
Diamond perforated type
Applications of Perforated Sheet Steel
Our product is designed to perform on different applications. You can ensure that it is ideal for the following:
Material Development
Steel Screens and Shelving
Steel Guards and Ventilation
Steel Diffuser and fixtures
Steel Filter
Steel Vents
Steel Signage and Screens
Safety barriers
Partitions and Enclosures
Farm Equipment
Industries We Supply
XIONGQIAN provides outstanding quality perforated steel sheets and reliable services. We are producing products for:
Architectural Industry
Industrial Industry
Environmental Industry
Food and Beverage Industry
Mining Industry
Chemical Industry
Pharmaceutical Industry
Petrochemical Industry
Safety Industry
Order Specifications
For your orders, you can send us the following details:
Steel type
Steel thickness
Opening size
Opening shape
Configuration
Sheet size
Order Quantity
FAQ
Is it necessary to coat oil on a perforated sheet?
Yes. During perforating process, oil reduces steel friction.
How do you process perforation?
Perforation is the process of safely firing a perforating gun. Shaped charges are used to perforate a well and energy explosion will tunnels or holes in steel sheets.
How can we trust your product's performance?
XIONGQIAN's main goal is to serve perforated steel plates compliant with international standards. Our company passes the following qualifications:
AISI and ASTM
DIN and JIS
ISO and EN
RoHS and SGS
BS and more.