Drain Grating
XIONGQIAN drain grating is the perfect solution for keeping drains clear and debris free. Our grates are made from the highest quality materials and designed to last. We offer different sizes and styles to fit any need. Contact us today to discuss the right solution for your business!
Weather-resistant: Able to withstand rain, snow, and other critical weather condition.
Variety of styles: There are various styles available, from classic to modern. Thus you can find a drain grate that fits your aesthetic.
Slip-resistant: Designed to be slip-resistant, so they are safe to use in wet or slippery conditions.
Professional Drain Grating Supplier in China
Drain grates are produced using various materials, including plastic, stainless steel, or reinforced concrete. The production process varies depending on the material used. But it generally involves cutting, forming, welding or bolting the materials together to form the grate. And then the coating process for the finished grating. The grates may also be adorned with decorative designs or logos.
At XIONGQIAN, you can get both customized and standard drain gratings. Just talk with our experts and we'll work with you.
Please get in touch with us today!
Where to Use Drain Grating
Stormwater Drainage: Commonly used in stormwater systems to capture debris, reduce flooding, and keep water flowing.
Sewage Treatment: Used to separate solids from liquid. And allows for efficient wastewater movement.
Landscaping: Used to direct water away from areas that could be damaged by standing water or erosion.
Parking Lots: Used to keep water from puddling and to keep cars from hydroplaning.
Roadways: Capture road debris and allows water to flow away from the roadway and into drainage systems.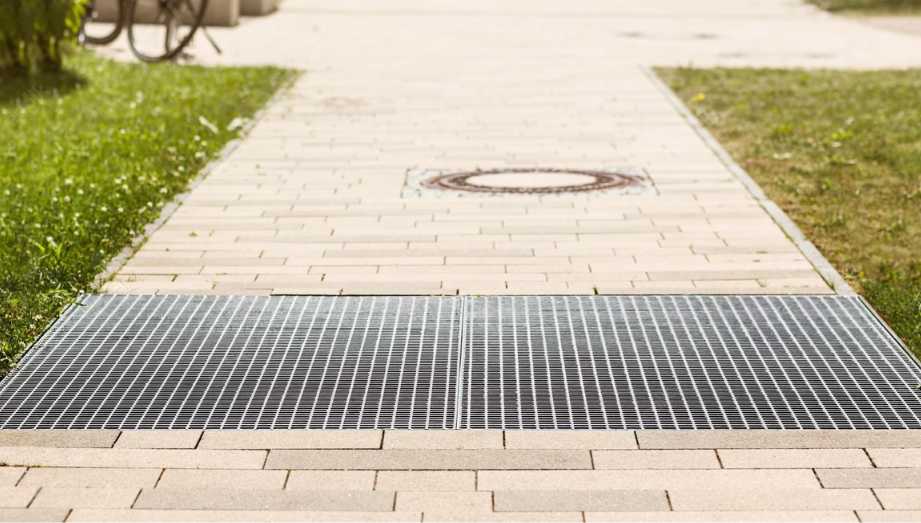 What are the available holes shapes?
Round
Square
Rectangular
Slotted
Hexagonal
Octagonal
D-Shaped
Louvered
Arched
Trapezoidal
What is the lifespan of Drain Grating?
Its lifespan can vary greatly depending on the material and the environment in which it is installed. For example, stainless steel grates can last for decades if properly maintained, while plastic grates may need to be replaced more frequently.
What are the installation steps?
Installation of a drain grating is typically quite simple. The first step is to measure the area where the grating needs to be installed. Then cut the grating to size. Once the grating is cut to size, it should be placed in the desired location and securely fastened.
What are the benefits of using drain gratings?
Using them helps to keep flooring surfaces clean and dry. Because this allows water to pass through and drain away. It also reduces the risk of slips and falls. As well as the growth of mold and mildew.
What surface finishes offered?
Smooth Finish
Powder Coated
Hot Dip Galvanized