XIONGQIAN Perforated Chequered Plate
Perforated chequered plates are metal sheets with raised diamond-shaped holes pressed into them. They are made resistant to corrosion, making them perfect for use in harsh conditions.
Welcome to XIONGQIAN! We manufactured perforated plates with hole sizes and gauges adjustable to suit your projects. With us, you can rest assured that you are getting the best quality on the market.
Contact us today to get started!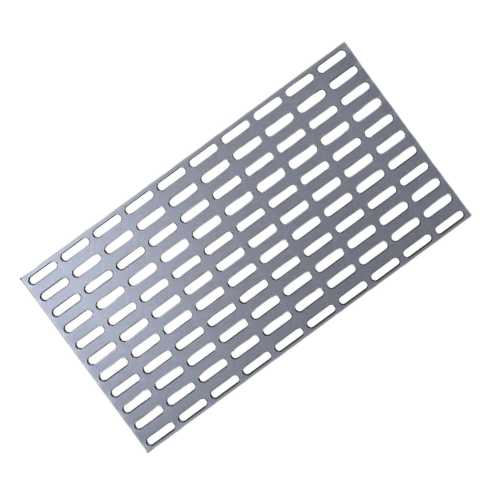 Laser Cut Chequered Plate
Features a pattern of punched holes and a raised chequered pattern. Its perforations can be in various shapes and sizes, depending on the application.
Waterjet Cut Plate
Metal plates that have been cut with a waterjet cutter and then have chequered patterns applied to them. It can be made from stainless steel, aluminum, etc.
Pressed Chequered Plate
Metal sheets with a pressed pattern of alternating raised and lowered lines. These plates are used for walkways, decorative pieces, and other surfaces.
Expanded Chequered Plate
A type of steel plate featuring a pattern of small, rectangular cuts or holes. These are used in construction projects, engineering, and architectural projects.
Rolled Chequered Plate
Have raised pattern formed by rolling, pressing, or stamping the sheet steel. This can be in the form of a diamond, square, hexagon, or any other shape.
Stamped Chequered Plate
With raised diamonds pattern or lines on one side, usually used for flooring or architectural uses. It provides additional grip, ideal for areas with high foot traffic.
Why Choose XIONGQIAN Perforated Chequered Plate
The most obvious advantage is the increased durability and strength of the material. While the perforated holes increased their strength. This makes it a great asset for businesses that need to produce reliable products.
We also made perforated chequered plates with visually appealing designs. Its attractive design can help businesses stand out from the competition. You can definitely leave a positive impression on customers!
Perforated Chequered Plate Production
We use quality steel and then perforated with a series of holes. Whether in a pattern that creates chequered or diamond patterns.
The production process is relatively simple and involves several steps. First, the steel sheet is cut to size. Then place onto a hydraulic press. The hydraulic press is then programmed with the desired holes pattern and the sheet is pressed.
Once the sheet is pressed, it is then sent to a finishing department. This department may employ various processes such as sanding, painting, or coating.
After the sheet is finished, it is then cut into your desired shape.
Wide Selection of Holes Patterns
The most common patterns include:
Round hole pattern
Square hole pattern
Long hole pattern
Hexagonal hole pattern
Oblong hole pattern
Slotted hole pattern
Rectangular hole pattern
Diamond hole pattern
Louvered hole pattern
Triangle hole pattern
Grecian hole pattern
Fish scale hole pattern
Cross hole pattern
Staggered hole pattern
Round corner square hole pattern
List of Uses and Applications:
Vehicle flooring: Used as flooring in vehicles due to their anti-slip properties.
Industrial walkways: Used as walkways in various industrial sites where safety is a priority.
Machinery guards: Used as guards for various machinery and equipment in order to ensure maximum safety.
Stair treads: Used as stair treads in order to provide traction and slip resistance.
Fencing: Used for fencing purposes in order to provide security.
Gratings: Used as gratings in various industrial sites.
Decorative panels: Used as decorative panels in order to enhance the space aesthetic appeal.
Kick plates: Used as kick plates on doors and other surfaces to protect them from damage.
 Treated with Special Coatings
 Galvanized Coating. Applied to the steel surface through a hot-dip galvanizing process. It provides an effective barrier against corrosion.
Polyester Powder Coating. It is applied after the galvanizing process. This provides a strong finish. Resistant to fading, peeling, and chipping.
Anodized Coating. Applied through an electrochemical process. It provides a protective layer that is resistant to corrosion and abrasion.
Zinc Phosphate Coating. Applied through a chemical process. It provides a durable finish that is resistant to corrosion and weathering.
Polyurethane Coating. Applied through a spraying process. It provides an attractive finish. Plus resistant to fading, peeling, and chipping.
PVC Coating. Applied through a thermal process. It provides an excellent finish that is resistant to peeling.
Teflon Coating. This coating provides a non-stick finish that is resistant to wear and tear.
FAQs
Q. What materials are perforated chequered plates made of?
A. Perforated chequered plates are typically made from aluminum, stainless steel, mild steel, and galvanized steel.
Q. What is its standard size?
A. The standard size is 4′ x 8′. The holes range in size from 0.125″ to 2″ and the thickness can vary from 16 gauge to 1/4″.
Q. How durable are the perforated plates?
A. They can last anywhere from 10 to 30 years depending on the environment it is exposed to and the material it is made of.
Generally speaking, higher quality materials and proper maintenance will result in a longer lifespan for the plate.