Perforated Sheet
Perforated sheets are sometimes called perforated screens or perforated plates. They are metal sheets with slots or holes. Their holes can be punched or stamped using laser cutting and other CNC machines.
These sheets have aesthetic appeal, ease of fabrication, and excellent corrosion resistance. Also, because of their low maintenance, durability, and extended lifespan, they are cost-effective.
XIONGQIAN manufactures all kinds of perforated sheets to suit any application. We offer them in embossed, louvered, countersunk, and other perforation types. Our sheets also come in rectangular, square, staggered, or custom pitch configurations.
Feel free to message us for your inquiries.
Material Options
Stainless Steel
Perforated stainless steel sheets are available in 316, 304, and other SS grades. They are excellent corrosion resistance. Also, they are commonly used for decorative and structural applications.
Aluminum
The perforated aluminum sheets are recognized for their durability and light weight. They can be used as acoustic elements, water drainage, exterior & interior decoration, and many more.
Brass
Perforated brass sheets come in different types including half-hard, soft, and 260-H02. They feature a gold-like appearance. You can use them for architectural applications and aesthetic purposes.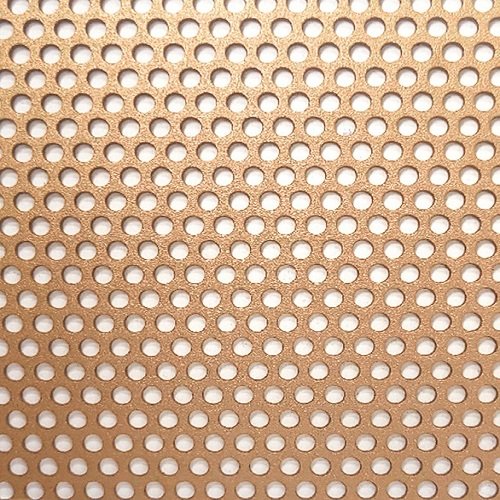 Copper
The perforated copper sheets come in 270, 342, 445, and other grades. They have a beautiful surface luster and a nobleness touch. Their applications include modern architecture, exterior/interior design, etc.
Titanium
Perforated titanium sheets are known for their excellent strength-to-weight ratio. They have low weight and high strength. Decoration, soundproofing, and window protection are some of their applications.
Steel
The perforated metal sheets can be made from alloy steel, mild steel, galvanized steel, etc. Perforated steel sheets are widely used for pharmaceutical & chemical sieving, construction, decoration, etc.
Perforated metal sheets with round holes are the most popular. Their holes come in various gauges, patterns, and sizes. It is also customizable.

Perforated square hole sheets are commonly used for machine guards, grilles, sunshades, and more. They are sometimes used as a substitute to round holed sheets.

Decorative Holes

The perforated metal sheets with decorative holes are commonly used for banisters and other decorative applications. Their holes come in hexagonal, diamond, triangular, and other shapes.
Why Choose XIONGQIAN
XIONGQIAN ensures to provide perforated sheets that perfectly meet your requirements. Due to that, they can be customized to your requirements such as:
Material type
Hole shape, pattern, and size
Gauge or thickness
Sheet size
Spacing
XIONGQIAN aims to serve the highest quality perforated sheets to exceed your expectations. That's why we manufacture them using high-quality raw materials and advanced production equipment. We also have a strict quality control system during the whole manufacturing process.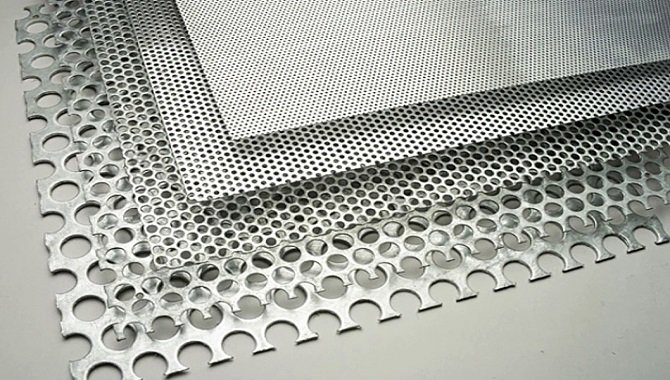 Uses of Perforated Metal Sheet
Protection
The perforated metal sheets have enough durability to protect machinery, equipment, and other valuables. Moreover, they are used for balcony guardrails in order to prevent children from falling.
Anti-Slip
There are perforated metal sheets that are embossed to prevent people from slipping. They lower the possibility of slipping on slippery or wet areas. And they are used to prevent skidding in stairs, industrial plants, transport places, and other areas.
Heat Dissipation
The perforated plastic and metal sheets have heat dissipation characteristics since they can reduce the air condition load. Due to that, they are used as facades, cladding, and other architectural applications. They can save approximately 29-45% of energy.
Acoustic Utilization
The perforated sheets can be designed with large open areas to enable the sound easily pass through. They are also used as grills for speakers since they can prevent them from damage. These sheets can also reduce noise to give you a relaxed space.
Filterability
Perforated metal sheets have excellent filtration ability. As a result, they are used as a filter or a sift for wine presses, grain dryers, fish farming, etc.
Protection from Radiation & Sunlight
For architectural uses, perforated plastic and metal sheets are commonly used as a sunshade or sunscreen. That is because they can minimize the number of sun's rays without blocking the view.
Various Specifications
Hole Size
Typically, the size of the perforation ranges from 1 up to 154mm.
Sheet Thickness
The thickness ranges from 0.75 up to 12mm.
Open Area Percentage
The open area of the sheet ranges from 20% to 60%.
These specifications can also be customized based on your specific request.
What are the Surface Treatments Suitable for the Perforated Metal Sheet?
Surface finishes or treatment processes are done to:
Enhance the appearance, texture, or brightness of the sheet
Extend their lifespan
Enhance their resistance to wear and corrosion
Improve durability
The most common surface treatment for perforated metal sheets include:
Powder Coating
Electrostatically adding paint powder to the perforated metal sheets is known as powder coating. This process produces thicker coatings than liquid coatings. Compared to liquid-coated sheets, powder-coated sheets are more eco-friendly. They can also keep their surface appearance and color longer.
Galvanizing
Galvanizing involves immersing the perforated metal sheet in a molten zinc bath. The most popular galvanizing process is hot-dip galvanization. This process is mainly used to prevent the sheets from corrosion.
Anodizing
To increase the oxide layer of perforated metal sheets, the anodizing process will be done. This process improves the adherence of primers and paints of the sheet. It can also increase their weather resistance and hardness. The coating of the anodized perforated metal sheets won't flake or peel off. There are also different colors and types of anodizing available.
Other surface treatments we offer also include dull mill, shine, high polished, and many more depending on your request.
Where Can You Use the Perforated Metal Sheet?
We offer perforated metal sheets that are widely used in:
Oil & gas industries
Fluid piping
Textile machinery
Architectural and construction projects
Water waste applications
Pharmaceutical processing
Medical gas pipelines
Acoustic dampening systems
Automotive industries
Interior design
Mining
Petrochemical development
Defense contracting
Lighting applications
Filtration systems
HVAC
Walls, gates, and fences