XIONGQIAN Perforated Metal Sheet
The perforated metal sheet has a pattern of round holes punched into its surface. An excellent choice for many applications, as it is strong, durable, and corrosion–resistant. It is also relatively lightweight and easy to work with, making it an ideal material for many projects such as fencing, sifting, filters, screens, and guards. Moreover, the perforated metal sheet is available in a range of materials, including stainless steel, aluminum, brass, titanium, and galvanized steel.
XIONGQIAN specializes in perforated metal sheet production and sales. We supply this product in a wide selection of gauges, sizes, and hole patterns available. If you require perforated metal sheets for high-end and industrial settings, we have the right solution for your projects. Contact us immediately!
Perforated steel sheet is strong and durable. Offer corrosion-resistant for long-lasting performance. It is available in a variety of materials, sizes, and gauges, and can be custom-cut to fit specific requirements.
Perforated stainless steel sheet is a type of sheet metal that has been punched or stamped with a pattern of holes. It has a smooth surface, a beautiful and diverse pattern. These are easy to install and use.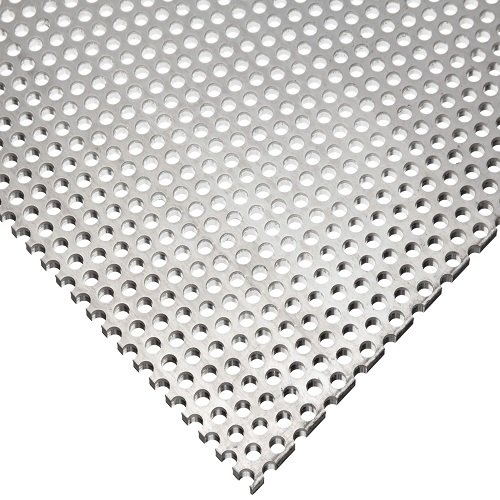 Perforated aluminum sheet is lightweight, rust-proof, and non-magnetic. Thus, making it a great material for many applications. Easy to clean and maintain, making it a great choice for interior applications.
Brass perforated sheet is a great choice for a variety of applications due to its strength, durability, and corrosion resistance. This material is used in architectural applications to create decorative accents or to add a unique texture to a design.
Galvanized steel features excellent corrosion resistance, durability and strength. It is also available in a wide range of sizes, thicknesses and hole shapes.
Perforated Copper Sheet is a naturally occurring metal with a high resistance to corrosion, making it a great choice for outdoor applications. It has the advantage of being naturally antimicrobial, making it a great choice for applications in food service and medical settings.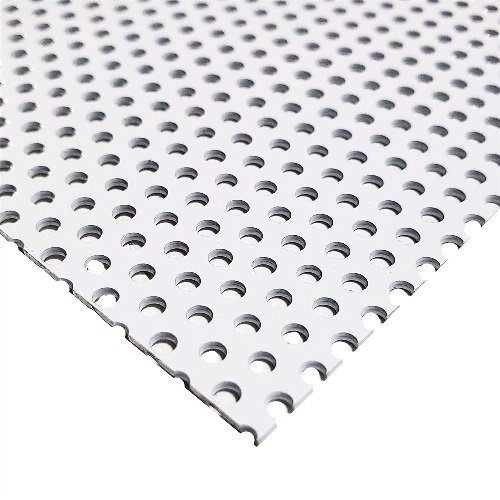 Zinc perforated sheets are a popular choice for many applications because zinc is a corrosion-resistant metal with a variety of attractive finishes.
Titanium perforated sheets provide exceptional strength, corrosion resistance, and lightweight properties. The sheets can be cut and shaped for any application.
Perforated sheets made of plastic are lightweight, easy to install, and highly durable. They are also cost-effective, waterproof, and highly resistant to corrosion.
Why Choose XIONGQIAN for Perforated Metal Sheet Solutions?
Reliable quality and price – XIONGQIAN is a professional perforated metal sheet manufacturer and supplier in China. We have a strong production capacity and a perfect quality control system, so you can be sure that you will get good quality and competitive price products from us.
Comprehensive and Customized Solutions – XIONGQIAN is specialized in providing perforated metal sheet solutions for different applications. We can provide both standard products and customized products according to your specific requirements.
Professional and Responsible Service – Our professional sales team is always ready to provide you with the best service and technical support. We are committed to providing you with the most satisfactory products and services.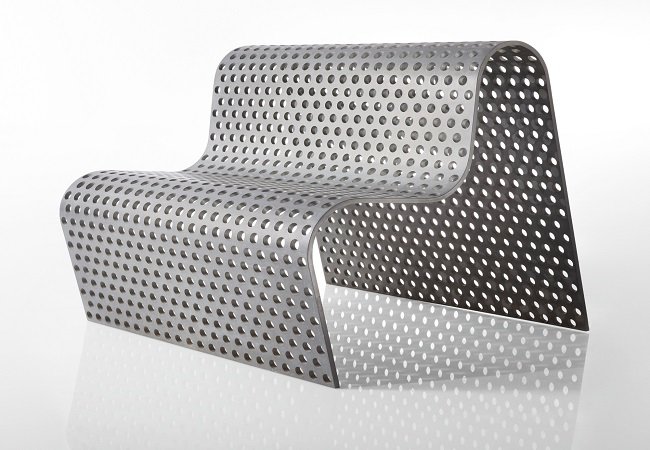 How Perforated Metal Sheet Manufactured
Perforated metal sheet is formed utilizing different processes. The most common method is to take a sheet of metal, such as aluminum, stainless steel, or mild steel, and punch holes into it using a variety of tools. These tools may include punches, dies, or laser-cutting machines. The holes have different shapes, patterns, and sizes. Once the holes are punched, the edges may be rolled or bent for added strength and stability.
Some of the Perforated Metal Sheet Hole Patterns
XIONGQIAN can process perforated metal sheets into different patterns according to your request:
Round Hole
Square Hole
Slotted Hole
Hexagonal Hole
Oblong Hole
Diamond Hole
Triangle Hole
Louvered Hole
Elliptical Hole
Cross-shaped Hole
Perforated Metal Sheet Sizes
The size depends on the application and the specific demands of the customer. However, the most common sizes are 1/4 inch, 3/4 inch, 1", 2", 3", 4", 6", 8", 12", and 24 inches. Custom sheet sizes can also be ordered.
Perforated Metal Sheet Advantages
Durability: Perforated metal sheet is highly durable due to their strong construction.
Versatility: It can be used for a variety of applications, including screens, filters, guards, and architectural accents.
High-Strength: Incredibly strong. Withstand wear and tear.
Corrosion Resistance: Perforated metal sheet is resistant to corrosion, making it a great choice for outdoor applications.
Aesthetic: It can be customized with a variety of finishes to give your projects a unique look.
Low-cost: A perforated metal sheet is an economical option for different applications.
Extensive Applications
Security – Perforated metal sheets can be used in security applications such as grilles, barriers, and cages.
Architectural – Building interiors, walls, and exteriors.
Filtration – Perforated metal sheets can be used in filtration applications such as air, water, and oil filters.
Vibratory screens – Perforated metal sheets are used in vibratory screens to separate materials by size.
Acoustical – Perforated metal sheets can be used to create acoustical walls and panels for soundproofing.
Display and Signage – Perforated metal sheets can be used for displaying and signage purposes.
Automotive Applications: Perforated metal sheets are used in automotive applications such as mufflers, air filters, and oil filters.
Surface Treatments
Perforated metal sheets can be coated with various types of surface treatments in order to enhance corrosion resistance, durability, and aesthetic appeal. Some of the most common surface treatments include:
Powder coating
Zinc plating
Galvanizing
Anodizing
PVC coating, etc.
FAQ
What to consider in perforated metal sheet customization production?
Design: Consider what design you want in terms of the shape of the holes, the size of the holes, the distance between the holes, the pattern of the holes, and the thickness of the metal used.
Material: You can choose from a wide range of perforated metal sheet materials we offer such as aluminum, brass, zinc, etc.
Finish: Consider what kind of finish you need for the Perforated Metal Sheet. Different types of finishes are available, including galvanized, powder coating, anodized, and painted.
Quality: Consider what level of quality is required for the Perforated Metal Sheet. Different levels of quality are available, including commercial grade, industrial grade, and military-grade.
Cost: Consider what your budget is for the Perforated Metal Sheet. Different levels of cost are available, depending on the design, material, finish, and quality.
Size and shape of perforated metal sheet holes
The size and shape of the holes will depend on the application and the desired outcome. The most common hole shapes are round, square, and oblong. The size of the holes can range from very small to large. It can be customized to fit the application.
Can a metal sheet be formed after being perforated?
Yes. Depending on the type of metal and the thickness, the sheet can be formed using a variety of tools, including rollers, presses, and other machines.
How much is the perforated metal sheet price range?
Generally, steel perforated sheets are the most economical option, followed by aluminum and stainless steel. The cost of a perforated metal sheet can range from $10 to $3,000 or more.