Anti-Slip Grating
The slip-resistant grating is also popular as the anti-slip grating is designed to avoid slippage. Due to its anti-slip feature and durability, it can provide higher performance on different walking surfaces.
High-quality metal materials like stainless steel, mild steel, etc.
Wide selection of surface treatments
Strict quality control guaranteed before dispatch
Available at a very competitive price
Your Leading Anti-Slip Grating Supplier in China
Xiongqian manufactures a wide range of metal gratings with an anti-slip feature. You can choose our anti-slip gratings in various classifications such as R12, R11, R10, and R9. It is available in numerous thicknesses, depths, and bearing spacing.
We make sure all our anti-slip grating will meet your walking projects and different industrial applications. Custom sizes, materials, and thicknesses can be tailored to your specifications. Just send us your requirements and let our team work for you.
Contact us now!
Why Choose Xiongqian Anti-Slip Grating
Simple installation
Minimizes liability
Maintenance-free
Durable
Minimizes injury that may cause by falls and slip
Economical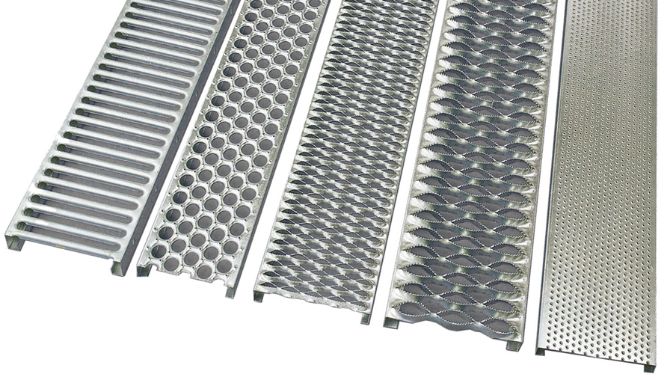 Anti-Slip Grating Application
Rooftop walkways
Walkways
Flooring
Rack Decking
Mezzanine Flooring
Job Platforms
Signboard Walkways
Stairs
Ladders
Specifications
| | |
| --- | --- |
| Cross Bar Diameter | Round Bar: 5mm-8mm; Twist Bar: 5mm x 5mm, 6mmx6mm, 8mm x 8mm |
| Spacing for Cross Bar | Ranging from 40 to 130mm |
| Bearing Bars | 20mm x 5mm, 25mm x 5mm, 30mm x 5mm, 40mm x 5mm, customize |
| Spacing for Bearing Bar | Ranging from 20 to 65mm |
| Width and Length | 2'x20'; 3'x20'; 2'x24'; 3'x24' |
Style Availability
| | |
| --- | --- |
| Steel | Welded (heavy-duty and light-duty), Swaged Locked, Pressed Lock |
| Aluminum | Dove-Tailed, Swaged Lock (flush top or I-Bar) |
| Stainless Steel | Light-Duty Welded and Swaged Locked |