Copper Expanded Metal
XIONGQIAN is a leading manufacturer of expanded copper metal for various industry applications. We provide these expanded metals from different opening shapes, sizes, and styles that depend on your specifications.
Corrosion, wear, and chemical resistance
Provide beautiful appearance
Low maintenance and easy to install
Environmentally friendly
Good ventilation
Can be exposed to outdoor elements
Professional Copper Expanded Metals Manufacturer in China
We manufacture expanded metals that come from 0.50" thick. It is available in stock in 300 up to 500-foot coils. These types of metals are highly capable of maintaining their durability even in high temperatures.
You can purchase our expanded wide range of mesh patterns applicable to architectural projects.
At XIONGQIAN, we can provide all your needs, from customizing to manufacturing processes. With the help of our expert engineers, we can develop quality and a wide range of expanded metals.
Message us now!
Copper Expanded Metal Types
We offer a wide variety of copper-expanded metal including:
Standard copper expanded
Flattened copper expanded
Hexagonal Copper expanded
Architectural copper expanded
Micro-expanded copper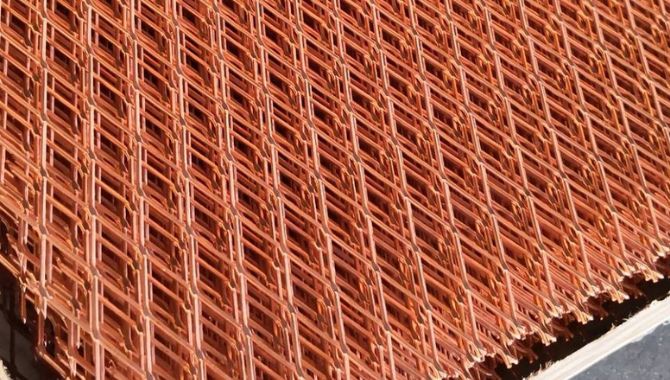 Specification of Copper Expanded Metals
| | |
| --- | --- |
| Materials | Copper |
| Hole shapes | Diamond, hexagonal, etc. |
| Colors | Golden, red |
| Surface treatment | Untreated |
| Width | 0.5 m – 2 m. |
| Length | 1 m – 10 m. |
Wide Range of Application
Our copper-expanded metals are widely used in different fields of application such as:
Chimney Caps
Animal Guards
Louvers
Vents and more.
But it is not recommended to use for grills, trailers, catwalks, etc. due to it is not strong enough for that type of application.
Benefits when using copper expanded metals
High strength
Cost-effective
Good conductor of electricity
Lightweight
Attractive appearance
Easy to slice and more.